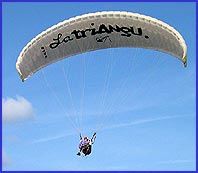 Paragliding tandem flights, carried out by pilots with a degree and lots for experience, are designed in order to enjoy a good flying time, to experience new sensations and to allow people to get to know closely the free flying world.
The passenger does not need any previous experience and all necessary equipment is provided (we only recommend that you wear comfortable shoes) so as to have fun in a secure way.
The activity takes approximately 30 minutes, depending on the flying zone and the weather and it is suitable for everybody including children, senior citizens and those with disabilities.
During the flight you can make a photo reportage and even pilot the paraglider if you wish it.
"Come fly with us and you will never forget it"