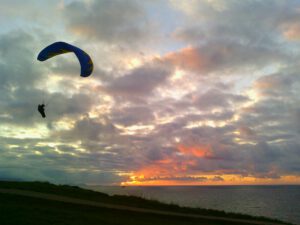 In SOPELANA PARAPENTE Airetik we want to make things clear to you to solve all your doubts, therefore, apart from our section exclusively for it (which will be updated), we leave this entry as a reference for it so that you can better access the information to clarify your doubts.

IS IT AFRAID? DO NOT. You have never flown and it is normal for you to be nervous, but it is a beautiful feeling, different from everything, it will pleasantly surprise you. In 25 years of activity, no customer has wanted to go down early, quite the opposite. Sopelana is beautiful and paragliding much more. You can check the opinions of our clients.
IS IT EASY TO DO? YES. Sopelana is a very noble paragliding area. Take-off and landing are easy for anyone, we also fly with people with disabilities, you just have to let yourself go and your monitor takes care of everything.
WHAT CLOTHES DO I NEED? The wind always gives you flying in Sopelana paragliding. That is why we recommend long-sleeved clothing and sports shoes.
DOES IT VERTIGO? DO NOT. That is why paragliding in Sopelana is so successful.
TIDE? Usually not. It depends on the quality of the pilot's flight. At Sopelana parapente airetik we take it very seriously so that you can enjoy paragliding to the fullest. Our statistics after so many years tell us that 1 in 100. Therefore, if you are sensitive to seasickness, take an anti-seasickness pill.
You have these and many other questions with their answers in the section "Frequently asked questions about two-seater flights" which is in the menu tab for two-seater flights and do not forget to contact us for any questions by phone or WhatsApp at +34 622 768 682, our mail sopelanaparapente@gmail.com or filling in the contact form on this website. We are waiting for you!